Greg Robson
February 14, 1973 - December 12, 2021
ROBSON, Gregory – Unexpectedly at his residence on Sunday, December 12, 2021, Gregory Robson of London, in his 49th year. Beloved husband of Angie for 7 years. Loving father of Cynthia Reid (Jordan), Christopher Allard, and Corian Robson. Adored grandfather of Gabriel, Scarlett, and Emilia. Also loved by his parents; Beatrice and Rod Leduc and George Robson (Janice), and brother Jeff Robson (Charlene). Predeceased by his step-brother Jeff Leduc.
We will fondly remember many wonderful things about Greg. His love of baseball – especially the Toronto Blue Jays, and his need to constantly learn new things – he was a fountain of information. He could build and fix pretty much anything and truly found joy in helping anyone he could. His passion for cooking the most delicious meals for others and drinking only the best tequila. His never-ending practical jokes on his friends and family. His deep love for his kids and grandkids was always a constant and will continue to be for the rest of their lives. He had a real love for his work and was one of the very best in his industry. Greg will be most remembered for his warm and expressive smile that made everyone who experienced it feel better instantly.
Cremation has taken place. A Celebration of Greg's Life will be conducted at a later date. Those wishing to make a donation in memory of Greg are asked to consider the Sick Kids Foundation.
To leave an online condolence for the family or to make a donation, please click the links above the obituary.
Leave a tribute for Greg Robson
On behalf of the management and staff of Start.ca we would like to offer our condolences to the family and friends of Greg Robson.
I consider, that you are not right. Let's discuss it. Write to me in PM, we will talk. dfgdlfg2131.32 https://howytooutoknowb.fun/map.php
To all of Greg's Family :I was truly shaken to hear of Greg's passing . I am sorry I could not be there to offer what help Jane and I could extend. Perhaps I can offer an oft told tale of him as a " Little Horror" who rang the store bell much to my distraction . A joker even at two and a half . Mike I am so very sad to hear the dreadful news. Greg was an important man to many. My deepest condolences to the family. Jane
"I was so sorry to hear of this unexpected loss. Please accept my heartfelt condolences. Nancy Caldwell"
Angie - my condolences to you and your family on this immense loss. You have my thoughts and prayers.
RIP Greg. Thank You for the opportunity to be part of the great work family at Robson Restoration. You will be missed. My deepest condolences to Greg's family and friends.
My condolences to the family and everyone who's heart this man touched. He was a great person very confident in everything he believed in and was always one who you could go to with any problem . Of course he would first let us know we should already know the answers to some of the questions we would ask but that was because he could see the potential in us and knew we sometimes doubted our own answers even tho they were the right one or sometimes we were just wrong and he would let us know that . The world seriously lost a great man .
"Hi Bea.....so sorry to see this about your son. My sympathy and condolences go out to you and your family at this time. Prayers for healing and may you find peace in your love and memories of gregory. Hugs and love Kathy.(Feltz)."
"There are no words that express the weight of this loss. I was very lucky to have known Greg for the past 17 years through his daughter Cori. Greg was an amazing father and constantly found ways to bring joy and be present in Cori's life. From coaching baseball, to taking us to blue jays games, picking us up from social outings and creating breakfast masterpieces the next day. I will never forget his big beautiful smile that could light up any room, his patience to help me learn to play ball so I could join the team, or his corny dad jokes that would make us all laugh. I will especially never forget his effort to always make me feel at home and more importantly, to make sure his "little girl" was happy. Greg, you were an amazing dad to Cori and I can't thank you enough for the incredible daughter you raised. Thank you for the positive impact you've had on myself and the life of many others. You will truly be missed. Rest peacefully. ❤️"
"Sincere Condolences to Greg's family Dave Balogh"
"So very sorry and to hear of Greg's sudden passing. I really enjoyed working with him, he had such an infectious personality, always joking around and smiling. He will truly be missed. My condolences to the family. A past employee, Katie Whelan"
"Words can't express how truly sorry I'am for your loss, Greg will be missed by many. It was a few months ago I was walking in Home Depot and they had a display for central vac set up and I started laughing out loud. It triggered a memory of Greg, Mark and myself were in Rod and Bea's house in Winnipeg and Greg (knowing Bea was doing laundry) took the central vacuum hose to his butt and let one rip. Not even 30 seconds later all you hear is poor Bea yelling from the basement "Greg". Kelly and I send our thoughts and love to the family and friends"
With so much love to all of you. Jenn & family. ❤️❤️❤️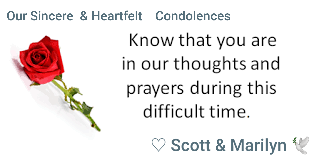 Uploaded a picture
"I would always look forward to waking up Sunday mornings to the smell of Greg cooking a gourmet brunch down stairs. I will never forget his homemade crepes with lemon curd sauce. Greg was one of my favourite baseball coaches and I will always value the lessons I learned from him. He always went out of his way to spend extra time with Cori and I (at centre field sports) to continually improve our baseball skills. His patience and positivity really made games and practices so much more enjoyable and fun. He was a great father and coach and will be deeply missed. My deepest condolences to the family❤️"
"Greg took me on as an employee in his company and gave me a chance when I had no experience. He entered my life and made a huge impact; always wanting to play pranks and practical jokes and sending me dad jokes. I never had to worry about being hungry, because he would show up almost everyday with our favourite weekday breakfast: a blueberry muffin heated with butter. Thank you so much for always making me laugh. I will miss seeing you every day and thinking of new ways to prank Brian:') Rest in sweetest peace I love you ❤️ Your friend (and favourite employee), Jordan"
Greg and was a great friend, both professionally and personally. His brilliant mind will be missed..... condolences to all of his family, from Mark and Chantell.
Greg and I worked together recently and during that time we worked on the largest project of our careers in Fort McMurray. He was a true restorer. Shared some good times! Will miss you Greg. My deepest condolences to Angie and the family.
Never got to meet Greg, but he sounds like a great guy. Condolences to Angie, and to the children.
Thinking of you at this time.
RIP Greg, I am so sorry to hear of Greg passing, My son Brian worked for Greg, and he looked up to a man that was there to listen, really listen. I want to say thank you Greg for that you will never know the impact you had on my son's life,. To Greg's family you are in my prayers.
Nicole Whitney lit a candle
"Going to miss you everyday Greg. All the love is being sent to your family. Your friend , Brian."
Make a donation
If you wish to make a donation, please consider one of the charities listed below. You will be taken to the charity's website to process your payment.
SickKids Foundation