Harold Thomas Moffat
January 21, 2023
Harold Thomas Moffat
At Mount Hope LTC Centre, London, on Saturday, January 21, 2023 at the age of 71.  Beloved partner and soulmate of Brenda Rouse. Loving father of Andrew (Lauren Barr) and Nicola.  Brother and brother-in-law of Allan & Sharon Moffat, Pat Storey & Neil O'Brien. Uncle to Kate Moffat (Brandon Walker), Maureen & Anna Rose O'Brien.  Predeceased by his wife Miriam Storey (2009) and parents Mabel & Lloyd Moffat. Fondly remembered by Brenda's family and Harry's many friends and relatives.
Harry grew up in Hamilton and began working part time at age 14.  He proudly financed his three degrees waiting tables at Barney's (The Ceeps) and The Keg & Cleaver before becoming an educator for the TVDSB spending the bulk of his career as a primary school teacher at Lord Elgin Public School.  Many Old North neighbours enjoyed time spent skating and playing hockey on his backyard rink.
"Happy Harry" embraced retirement, honed his goalie skills and truly loved sharing the ice with his London Senior Hockey and Huff 'n' Puff buddies.  He always had a joke and a smile whether they won or lost.  A die-hard fan of the Montreal Canadiens, Hamilton Tiger Cats, London Knights and Toronto Blue Jays, you could always count on Harry to be wearing a t-shirt representing his favourite team!  He also enjoyed curling, skiing, golf and baseball, and even windsurfed in his younger years.  Harry and Brenda loved to travel and they created many wonderful memories in the few years they shared together.
Harry was a great euchre player right up until his final days, despite his battle with dementia.  His quick wit, iconic smile and famous "one-liners" brought so much laughter to family, friends and caregivers (even if they had heard his jokes many times before!)
To honour Harry and his amazing sense of humour, a celebration of his life will be held at the Victory Legion Branch 317, 311 Oakland Avenue, on Saturday, January 28, 2023 at 2:00 p.m. with visitation one hour prior.  A reception will follow.  Feel free to wear your favourite team jersey or t-shirt.  Those wishing to make a donation in memory of Harry are asked to consider Alzheimer's Society Southwest Partners or the Scleroderma Society of Ontario.
Leave a tribute for Harold Thomas Moffat
So sorry to hear about this tremendous loss to your family. We could see the love you have for your father Andrew, when you spoke about him. The Guest families thoughts are with you and Lauren and the rest of the Moffat family. Me your father rest in peace knowing he raised a wonderful family.
To the Moffat Family, So sorry for your loss. I played hockey with Harry and we always had a great time teasing each other about the games. Harry was one of the truly great guys. He will be sorely missed. Greg Strathdee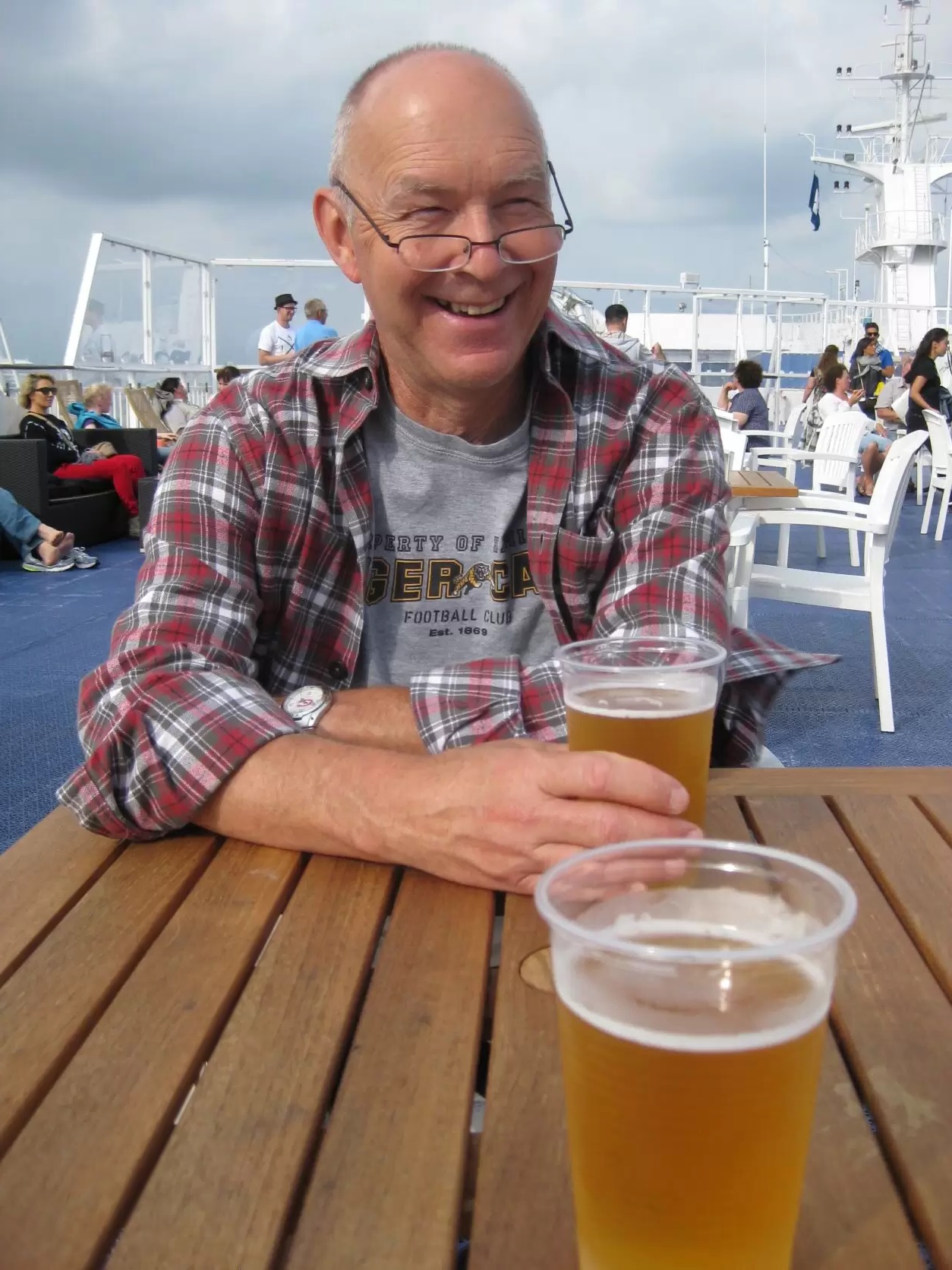 Dear Nicola, Andrew, and Brenda, I am so sorry and sad for your loss and like everyone I only have but great memories of Harry and his joyful laughter. I am so glad my path here in life intersected with his and that I even got to travel with him — on multiple occasions. Picture is from when he visited us in Sweden in summer of 2013 and we took the Copenhagen-Oslo overnight ferry to head up to the Norwegian mountains. My deepest sympathies, Fredrik
Brenda, Andrew and Nicola, l am so sorry to hear of Harry's passing. His smile could light up any room! My sincerest condolences and love to you all.
A donation has been made to Alzheimer Society Southwest Partners.
Our sincere condolences on the passing of Harold our thoughts are all the Families. Sincerely, Sharie and Karen Edwards
Dear Andrew, Nicola and family, sending my sincere sympathy to you, on your loss of your Dad, Harry. I will have a Candle light on this week, for him, here. Keeping all of you in my Thoughts and Prayers. Love Dianne
Upon hearing the sad news of Harry's passing, my mind immediately thought of the classic Brown's song, "The Old Lamplighter", who "made the night a little brighter, wherever he did go". For those of us who had the privilege of playing hockey and baseball with Harry, he made our days very much brighter, and our activities more enjoyable, with his positive outlook, sportsmanship, and great humour. It was an honor to have known him!
Harry was a great mentor to me in my early days of teaching at Lord Elgin. He was an exceptional man and educator. My condolences to his family and friends.
Andrew and Family~ We are so sorry for your loss and are sending our love and thoughts your way. May the special memories of time spent with your Dad bring you comfort during this difficult time. With love, Mary, Richard, Laura and boys
Brenda, Nicola and Andrew - So sorry for your loss. Thinking of you during this tough time. Love and hugs. The family gatherings will lack the brilliance of his smile.
Brenda, Nicola and Andrew , Rick and I are so sorry for the loss of a wonderful man. We have many fond memories of the days that Harry worked in Barney's. Always happy , always willing to help do anything, he was a kind, gentle soul. We hope that good memories of days gone by help you all in the days ahead. Fondly Bev & Rick
Nicola, we are very sorry to learn about Harry's passing. Amidst all his accomplishments, I'm sure he was most proud of you and your brother. Please accept our love and deepest sympathies. Allan & Lisa
Brenda sending a hug to you at this sad time
Brenda and family: My sincere condolences on the death of Harry. May the wonderful memories you have of Harry, bring you comfort in the days ahead. Gail Norris
Brenda. May the love and laughter you shared give you comfort and strength during this very sad time. My condolences Sincerely, Dianne
Every time I saw Harry I had my arms open for a hug, he found it uncomfortable at first but knew he was going to get one anyways. He said he was going to fix me up with one of his friends and after a few years of hearing this I told him he was saving me for himself…he laughed. I miss his jokes and his laugh. ❤️❤️❤️ My love and condolences with you Brenda, and with your family.
Brenda: May happy memories of Harry give you comfort at this difficult time. My condolences, Patty
Services for Harold Thomas Moffat
Visitation will be held at:
Victory Legion Branch 317
311 Oakland Avenue,
London, Ontario
January 28, 2023 1:00 pm to 2:00 pm
Celebration of Life will be held at:
Victory Legion Branch 317
311 Oakland Avenue,
London, Ontario
January 28, 2023 2:00 pm
Make a donation
If you wish to make a donation, please consider one of the charities listed below. You will be taken to the charity's website to process your payment.
Alzheimer Society Southwest Partners
Scleroderma Society of Ontario
Notify family of your donation
Kindly submit the form below if you wish to notify the family of your donation.