Uleen Rita Callaghan
February 7, 2023
Uleen Rita Callaghan
On Tuesday, February 7, 2023, Uleen Rita Callaghan of London, at the age of 88. Beloved wife and friend to Daniel Callaghan for 31 years. Loving mother and friend to Linda Rowland and the late Gerald "Jerry" Rowland (2021). Fondly remembered by her step-children Keith, Karen, Ann (2022), Marjorie, Donna, Jane, Susan and their families. Beloved sister and friend to Edsel, Marie, Elva, Ted, Sarah, Veronica, Martha, Theresa, Helene, Donna, George, Paul, Dianne, Darlene, and Bernadette. Dearest sister-in-law to Thelma, Jerome, Nancy, Ted, Jim, Joe, Peter, Alex, Elaine, Dorothy, and John.
Uleen is remembered by many nieces, nephews, extended family, and friends.
Predeceased by her parents Paul and Violet Ducharme.
Until the end of time, Uleen remains in the lives of all those she has touched. This world is a better place for having her.
Visitation will be held at Northview Funeral Chapel, 1490 Highbury Avenue North, London on Friday, February 10, 2023 from 2:00 p.m. to 5:00 p.m. The funeral mass will be celebrated at St. Michael's Parish, 511 Cheapside Street, London, on Saturday, February 11, 2023 at 1:00 p.m.
There will be a private family interment at St. Peter's Cemetery and Holy Family Mausoleum, London at a later date.
Memorial donations in memory of Uleen may be made to a charity of your choice.
Leave a tribute for Uleen Rita Callaghan
My deepest condolences to Linda, Dan and the rest of the family. Linda, your mom was truly a kindred spirit to me, we had so much in common, I always treasured the times we spent together and felt her to be a mother to me as well. I am making a donation to the Alzheimers society in her memory. May God comfort all of you.
Stephanie and family, our thoughts and prayers are with you at this difficult time.
A donation has been made to Alzheimers Society.
My deepest sympathies to Dan and Linda who walked along with Uleen, my sister, through her most difficult journey of Dementia. It is sad to lose someone you love so dearly, you made such a difference in the life of so many she touched. We all know she is much happier now and is having a wonderful time with her son, Jerry, our mother and father, and 4 other siblings you have gone before her. She was a "mother figure" to many of us siblings left here. She loved fun and having fun. Uleen and I shared the joy of music. Playing the guitar and singing together. And when dementia hit her so hard, she would look at my lips and still sing with me in her home and later in the nursing home. I love you Uleen. I will miss you something terrible. We all will. Your battle has come to an end. You were a sister to admire. A friend when needed and you were always and in all ways there for anyone who asked. Goodbye Uleen until we meet again.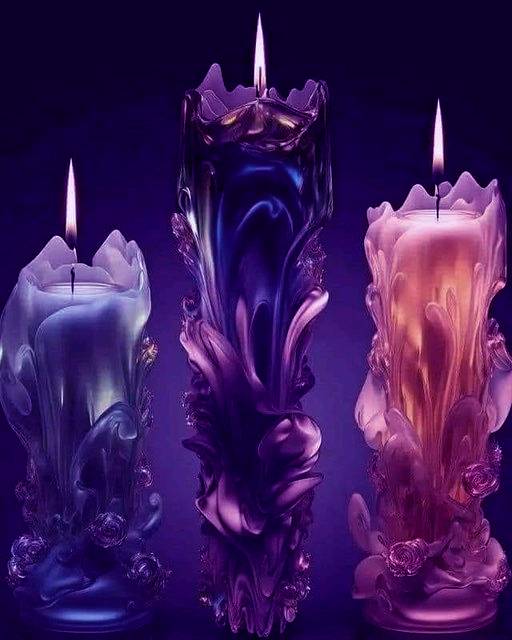 I think that these candles are the most ones that I could find. May they lead you to me in my time of need. I still need you, so don't forget me!
There could only ever be one of Uleen - she was my queen. My godmother, my mentor, my role model, the one who took me in when I needed somewhere to go. That person who gave me advice whether I needed it or not - however, usually I needed it. That woman who gave me a home to recoup from many a hard time and was the most sensitive, caring, gentle care giver. The life of the party - whenever you wanted to have some fun - just follow Uleen she would lead you to it. She had that beautiful gift of gab and laughter and one felt so very much at ease when they were in her presence. And her welcome into your home was always venturing to the island in her kitchen, having a cigarette with her if you so desired, and a beer or glass of wine if that was your choice. That contagious laugh that drew you in and made you jolly and the stories ... oh the stories!! Just the best - straight from her "first life" to the "present life she was living". Ah ... at last we lost her to the most dreadful disease of Dementia and it was such a very slow process for her and for all of us. Alas, she is now partying in heaven with those of our family members who went before her. Party on Uleen, but, don't forget about us down here and come by whenever you came. We will look for you in the sounds of nature, the butterflies, and the cardinals and all the little creatures God has given us to help us to feel comfort when we most need it. You will forever be the most cherished woman in my life after my own mother. Darlene - the younger sister who tried her best to listen to your advice!
I am so sorry to hear of the recent passing of Uleen. I walked past her room today. Her bed was made. I'm heart broken but I know she is now in heaven. She was such a sweetheart. When she first came to peopleCare she would talk with my dad Earl Morrison and they became good friends. She loved a big hug when I saw her. She was a very special lady. She'll be truly missed 💝 please accept our sympathy at this very difficult time. The Morrison Family 🙏
Our condolences to Linda and Dan. My respectful regards to both of you as you journeyed with Uleen in her journey. My hearts go out to both of you at this time. May God accompany you both closely on your journey through mourning your loss John and Bernadette McAuley
Our sincere condolences to Linda and all the family 🌹
My deepest condolences to Linda in the passing of your mother and also to my Ducharme cousins in the loss of your sister Uleen. May the memories you hold in your heart always sustain you and bring you comfort.
To you my Auntie: May you be so happy in your new surroundings with all those who went before you! Dance with the angels and keep one eye on all of us who will be missing you here!
Dear Linda and family, may the love around you help you through the days ahead. You have our deepest condolences. Sending prayers and comfort.
Services for Uleen Rita Callaghan
Visitation will be held at:
Northview Funeral Chapel
1490 Highbury Avenue North,
London, Ontario
February 10, 2023 2:00 pm to 5:00 pm
Funeral Mass will be held at:
St. Michael's Parish
511 Cheapside Street,
London, Ontario
February 11, 2023 1:00 pm
Make a donation
Notify family of your donation
Kindly submit the form below if you wish to notify the family of your donation.